Expansion of Steam Whistle Brewing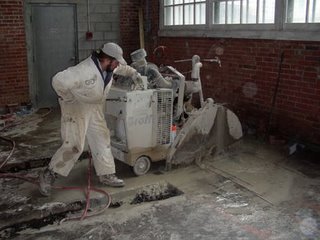 This week Steam Whistle Brewing began work in their expansion space - roundhouse stalls 12, 13, 14 - on the floor and sanitary drains. When complete, the space will hold a new tank farm, a cooler room and new staff facilities. A TRHA representative was on hand for much of this week to advise on heritage matters while the floor cutting was proceeding. As previously mentioned in this blog the 1929 structural drawings were located in the Toronto Archive a couple of weeks ago, these have now received the attention of the archive's paper conservator and have been copied to a DVD. The information contained in the drawings was instrumental in avoiding inadvertent damage to the foundations during floor slab cutting.
The City of Toronto, as owner of the roundhouse, has set a high standard for preserving the heritage elements of the building, insisting that minor modifications necessary to accommodate tenants be totally reversible at the end of lease terms.
Both the City of Toronto and their tenant Steam Whistle Brewing are to be commended for their willingness to protect the building for the future by altering construction plans to take TRHA's heritage concerns into account. Some photos of the work are posted here:
http://garrattguy.googlepages.com/swexpansionwork