Preparing the turntable for installation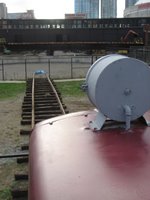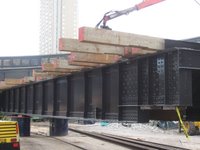 .
.
.
.
.
After a late departure from the Western Mechanical yard in Barrie (which resulted in the Police escort delaying the convoy at the City limits until rush-hour was over yesterday), the restored turntable bridge safely arrived back at the roundhouse on Tuesday evening. Unloading took several hours but by 11 p.m. it was parked alongside the pit on the west side. Today, the operator platforms were installed (see one platform in the picture at the upper right). PNR rail services have also placed the ties on the bridge as a first step towards completion of the fitting of the ties, rail and the walkway timbers.
.
In the picture at the above left, one can see that we have also extended the track upon which the CLC Whitcomb locomotive resides in order to access the turntable.
..
by Russ Milland, TRHA