Bringing the Whitcomb to life - the saga continues!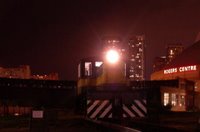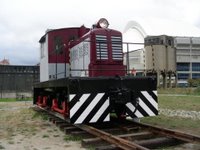 .
.
A TRHA team is working hard to bring the CLC Whitcomb diesel back into operating condition as it will be needed to move engines and rolling stock out of the roundhouse in order to allow the interior of the roundhouse to be fully restored. As soon as the turntable is reinstalled and made operational in November, such moves will be required. .
.
At the left, we see the Whitcomb diesel with newly installed lighting in action in a night shot. This was done early in support of the recent and widly successful Toronto-wide "nuit blanche" celebration. One of the many "nuit blanche" events was held in the roundhouse area.
.
In the middle picture, the paint scheme for the body of the diesel has been partly applied.
.
In the right hand picture, we see five members of the team who have been restoring the Whitcomb posing with it. From left to right are Michael Guy (project leader and VP - TRHA), Dave, Jason, Bob and Mark.
.
Finally, there is excellent news from the "diesel hospital". Today, at 11:00 am, Michael and Jason coaxed both engines of the Whitcomb into cranking over under battery power. One engine rotated immediately. The other engine required a bit of muscle power to loosen it before it too cranked over.
.
by Russ Milland, TRHA