Preparing to lay rail in the turntable pit!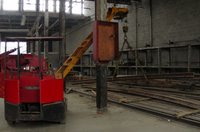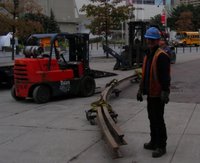 .
.
.
On October 15th, Western Mechanical sent a truck with two forklifts to assist in getting the turntable pit ring rails out of stalls 31 and 32. After an hour of their working on this task with their small forklift, we decided to use our own Elwell-the-Crane to unstack the rails. Things went much faster after that and we were done by just after noon hour. The curved rails are now out in the park near the pit fence.
.
PNR Rail Services has also been busy marking and drilling holes all day for the hold-down bolts for the ring rail. There are many, many holes as there are four per support plate and about 250 plates or so. Rail installation is scheduled to begin on Thursday of this week. A boom truck will be used to lift the rails into the pit.
.
All of this work is of course preparing for the reinstallation of the turntable which is expected to occur in November.
.
By Michael Guy, TRHA