The week that was .....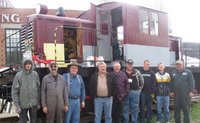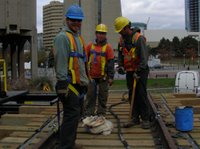 .
.
.
The busy week began last Sunday with a large TRHA work crew turning out. From left to right in the picture at the above left, we have Jason P., Michael G., Knox H., Orin K., Dave W., Derek B., Scott W., Richard W. and Rod W. Our thanks to these volunteers and the many others who have helped on other days.
.
By the end of the week, rail and tie installation on the turntable bridge was completed by the PNR crew as seen in the middle above. Green-preserved Canadian fir ties support original 1929 rails on original tie plates with new rubber pads, all held with three new spikes per plate and rail anchors at each tie. This represents top-quality track construction for bridges using as much original John St material as possible. Next week installation of the walkway decking will commence.
.
Meanwhile, in Roundhouse stalls 30 & 31, a passage has been created as pictured at the above right to allow TRHC artefacts to be moved to secure storage for the duration of the renovation efforts.
.
by Michael Guy, TRHA