Saying farewell to the car washer!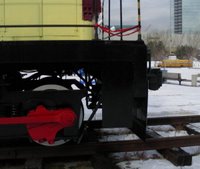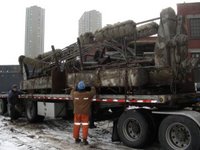 .
.
.
.
Progress continues to made on the restoration of the roundhouse and the turntable. Western Mechanical continues to fine tune the turntable and the track in the pit as we move towards making the turntable fully operational.
.
Yesterday, as shown in the middle picture above, the six wash-rack columns and associated parts were loaded aboard a truck bound for their new home at Exporail, the national railway museum of Canada. In the picture at the right, Dave W. stands at what we expect will become the rear loading entrance to the future museum space in the machine shop. The third photo shows one of four new hinged blanking plates fitted over the CLC-Whitcomb locomotive's steps to discourage folks from climbing aboard. We will be applying some interpretive text to these plates to explain the history and purpose of the locomotive.
.
by Michael Guy, TRHA