Our Best Wishes of the Season to All of You!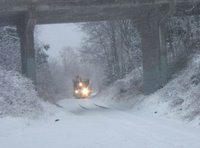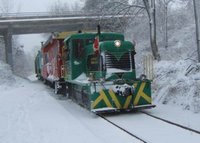 .
.
Pictured above at the left and in the centre is the Santa Train operating on the
Port Stanley Terminal Railway
on December 16th 2007 at the height of an early winter snowstorm. At the right, we have a picture (from the picture collection of a globe trotting couple at
this website
) of a seasonal Christmas exhibit somewhere in South America which offers a humorous takeoff on a famous picture of a century ago of "the French passenger train that didn't stop soon enough".
.
The Board of Directors of the Toronto Historical Railway Association wishes all of our volunteers, partners, supporters and readers a Merry Christmas and a safe and satisfying holiday season as we look forward to an exciting 2008!