Opening up the Whitcomb for servicing ...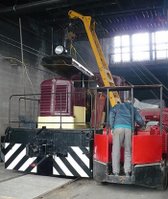 Click on each picture for a closer look!
.
.
.
Today a TRHA crew braved -26C wind chill to start maintenance on the CLC-W locomotive's rear engine. Inside the roundhouse, with the sun shining through the south windows, the temperature was pleasant and high enough that we could work without gloves. Bob D., Dave W. and new member Todd S. used Elwell-the-Crane to lift the rear hood off and then removed the middle set of engine doors on both sides. Once access was clear we removed the three air cleaners, the radiator fan and finally the coolant circulating pump which requires a new shaft seal. The air cleaners appear to be completely choked with oily black dirt, suggesting this might be one reason the engine won't run.
The rear engine is a Cummins six cylinder diesel model HBI-600 built in 1950. It has been retrofitted with a type PT fuel pump. To the right of the engine and bolted to it is a Westinghouse traction generator.
by Michael Guy, TRHA; Pictures by Dave Wetherald