Wheelpits, Pit Jacks & Platforms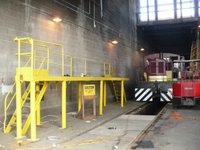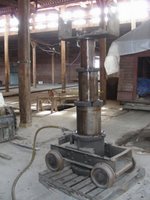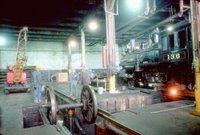 Click on each picture for a closer look!
.
The high work platform looks nice in new yellow paint in this photo taken by Dave Wetherald. The platform will assist us in maintaining our CLC-W locomotive. The second photo shows a wheel set from locomotive #136 atop a pit jack in the roundhouse in 1977 in a photo provided by Grant Kingsland. This locomotive is now part of the South Simcoe Railway operation in Tottenham, Ontario just north of Toronto (see
http://www.steamtrain.com/
). In the final picture by Michael Guy, a pit jack was hooked up last Monday to check its condition and measure the height to confirm it can be used in the museum to service locomotive 6213 in the future. Watch the video in the next news entry to see the pit jack in action
.
by Michael Guy, TRHA