The Annual Railway Heritage Walk - May 10th at 11:00 a.m.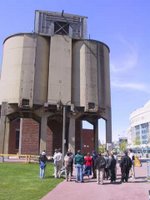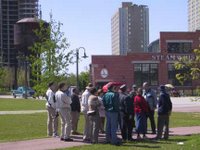 .
.
.
.
.
TRHA Historian Derek Boles will be conducting his annual railway heritage walking tour for Heritage Toronto on Saturday, May 10th, 2008 beginning at 11:00 a.m..
.
The sites that Derek will deal with in some detail include:
.
1. The CPR Building at King & Yonge.
2. Canadian Northern headquarters at King & Toronto.
3. Toronto Railway Company headquarters at King & Church.
4. The Gooderham (Flatiron) Building.
5. The Great Western Railway station at Yonge & Esplanade.
6. The Railway Viaduct.
7. Union Station (although only the public areas, not the restricted areas we access on our monthly tours)
8. Old Union Station.
9. Roundhouse Park.
10. CPR John Street Roundhouse
11. The Railway Lands
.
These walks are free and no reservations are required. Just show up!
.
Saturday, May 10th - 11:00 AM
Toronto's Railway Heritage
.
On May 16, 1853, the first passenger train steamed out of Toronto from a wooden depot located close to the eastern entrance of the present Union Station. Over the course of the next century, the railways were to have a profound impact on the city. This walk explores the railways' influence on downtown Toronto, with an emphasis on the Railway Lands and the old CPR John Street roundhouse.
.
LEADER: Derek Boles, Toronto Railway Historical Association
START POINT: Courtyard on North side of King St, just East of Yonge St
FINISH POINT: John Street Roundhouse, Rees St and Bremner Blvd
LENGTH: Approximately 2 to 2 1/2 hours
FOCUS: Historical, architectural
DIFFICULTY: Long walk on sidewalks, some stairs