Doors Open - Riding the Rails on a Speeder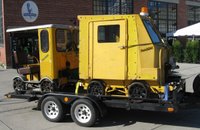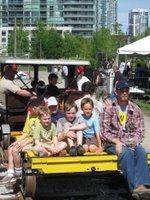 .
.
Rod Wilson, a Vice-President of Track Motorcars of Ontario, has arranged each year to display at Doors Open one or more of their restored motorcars (also called 'speeders') which were used by railway staff to inspect and maintain trackage until the latter part of the century when road-going trucks with lowerable railway wheels replaced them. His group lovingly restore these motorcars and operate them on rail excursions many times during the year.
.
With the installation of our operating turntable, we were able to demonstrate these motorcars on about 300 feet of track using one of spur tracks plus the length of the turntable. Rod used the museum's newly restored trailer car to pull passengers to the end of the turntable where they could disembark and the tour the roundhouse.
.
To learn more about rail motorcar restoration,
click here
.
.
By Russ Milland, TRHA; Pictures by Russ Milland