Doors Open - Passenger Train Service Lives Again!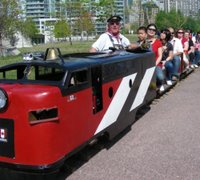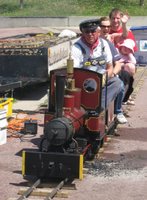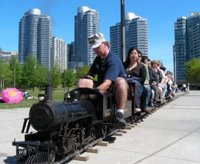 .
Once again, passenger train service returns to the CPR Roundhouse. Using our 300 foot portable track for our miniature railway, we offered rides to visitors and carried over 2,300 passengers over the weekend.
.
The steam engines were provided by Jesse W. (whose engine is the black 2-6-0 stean engine in the pictures above) and Russ M. (whose engine is the red steam engine in the above picture) while the diesel engine in the classic orange, black and white colour scheme of the CNR) belongs to Mike G. The diesel engine is a former 15 inch gauge amusement park engine body acquired by Mike G. and restored to operating condition through the design and construction of a gas powered chassis.
.
Members of the Toronto Live Steamers, the Richmond Hill Live Steamers, the Golden Horseshoe Live Steamers and several other volunteers collectively provided the necessary support staff to make this a safe and successful event. We thank them all on behalf of the many happy riders.
.
By Russ Milland; Pictures by Russ Milland & Michael Guy