CNR 4-6-0 #1531 moves to Simcoe County Museum - Part 1 of 2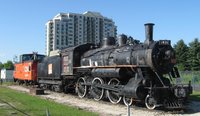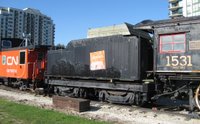 .
.
.
As reported in the Barrie Examiner (
http://www.barrieadvance.com/barrieadvance/article/114015
): "Built in Quebec, this 1910 steam engine was used by CN Railway until the late 1950s; it was stationed in Allandale and served many Simcoe County communities. Donated by CN to the city in 1960, the engine has been on Lakeshore Drive ever since. A high fence was eventually erected to protect the artifact from vandalism and graffiti. The caboose was added in 1995."
.
The train set had to be moved to make way for sewer construction which is currently underway at the site. It was decided that the most appropriate move would be to the Simcoe County Museum. Moving the locomotive isn't straightforward, as the engine's boiler jacket and some piping insulation contain asbestos. The cost to remove the asbestos is expected to cost $75,000, while the cost to move the engine is estimated at $89,000.
.
At the Simcoe County Museum this equipment will undergo extensive restoration, a process which is expected to last approximately two years. When the restoration work is complete the pieces will be on public display at the Museum. The City of Barrie will maintain ownership of these pieces and has partnered with the Simcoe County Museum to restore and house this important collection. For more details read the Simcoe County Museum's press release at their website:
http://www.museum.simcoe.ca/
.
By Russ Milland, TRHA