A tale of five bridges! - Part 2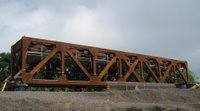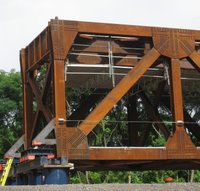 .
As you may be aware, Go Transit has been the driving force behind one of the rare expansions of trackage within the Toronto area. To accommodate this expansion, the Canadian National Railways (CN) are adding a third track to the Lakeshore West route from Port Credit to Kerr Street in Oakville. As part of this expansion, bridges need to be added or expanded to accommodate this.
.
In the picture at the above left above, we see the 330 ton steel girder bridge which a pair of CN bridge building teams have assembled beside the track to the west of the existing Credit River Bridge. This bridge is assembled using over 35,000 bolts. In order to place it into position, CN will also use "linear cranes" to move the bridge up and over the existing track, pacing the bridge on a train of four flat cars. These flat cars will then be moved into position on the existing bridge where additional "linear cranes" will be used to lift, move and then drop the bridge onto the piers constructed to hold them.
.
This will all be accomplished tonight between the passing of the last Go Train in the wee hours (about 1:00 a.m.) of Sunday morning, August 11th and the start of Go Train service through Port Credit about 8:00 a.m. on Sunday.
.
More information on this and other expansion projects is available at
http://www.gotransit.com/
.
By Russ Milland