TRHA on the Road at George's Trains in Markham!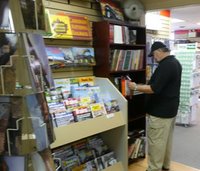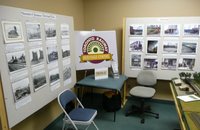 Click on each picture for a closer look!
.
.
.
.
.
.
The TRHA was invited to participate in the 2nd annual Customer Appreciation Day & Charity BBQ at George's Trains Markham store. TRHA president Orin Krivel and Derek Boles decided to attend the event and hoist the TRHA flag. VP Michael Guy and Dave Wetherald also came by to promote the museum and recruit new members. The photograph at the right shows our display that was set up in the back end of the store. In the second picture, I caught another view of El Presidente contemplating more additions to his vast collection of rail books.
.
In addition to the plethora of visitors who came by, we were amused by the CN freight traffic that regularly passes by the store. Unfortunately heavy rains began an hour after the event began and I was unable to take more photographs. However, a good time was had by all.
.
By Derek Boles, TRHA