The New Spacious Machine Shop!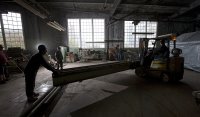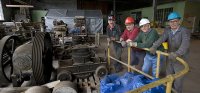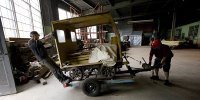 Click on each picture for a closer look!
.
.
This last weekend's work team had a really successful work bash yesterday thanks to Arno, Bob, Mike S. and Ron. In stall 17 we used Elwell to shift the yellow platform north just enough to clear the space needed for installation of our future caboose water and sanitary lines. After that, operations shifted to the machine shop where we successfully dismantled the old green dividing wall, swept the floor and moved *everything* in the room (just about) to re-organize it all and make as much space as we could. This process was assisted earlier in the week by the bricklayers removing the remaining dozen skids of "heritage" brick that were cluttering up the place.
.
Photographer Norm Betts (whose exciting photos have been seen here before and graced the roundhouse during the 2008 Doors Open) dropped by and spent a good few hours recording the festivities. We have included a collection of his great pictures above and below. In the first picture at the left above we find myself, Ron, Mike S. and Arno. Missing in hte picture but present also was Bob D. The remaining pictures provide us with a feeling for the spaciousness that has been created by our work teams.
.
By Michael Guy, TRHA with pictures by Norm Betts
.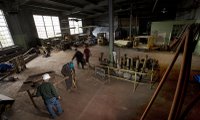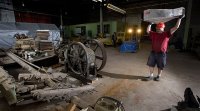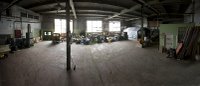 Click on each picture for a closer look!