Preparing Don Station for the Move to Roundhouse Park!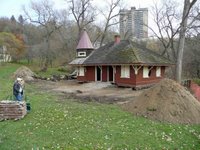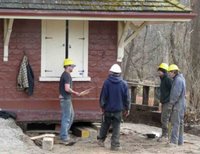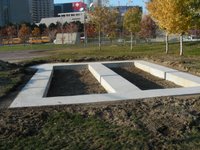 Click on each picture for a closer look!

.
.
As many of you are aware, the historic
Don Station
, once located on the banks of the Don River south of Queen St. is currently located at the Todmorden Mills Historic site in the Don Valley. Preparations are currently underway to move the station to Roundhouse Park.
.
In the picture at the left, we see that the station has had its foundation dug out in preparation for this move. The gentleman on the left is John Mellow, an operator at Don in the mid-1960s and the TRHA advisor on the restoration of the station. Behind him is TRHA President Orin Krivel, well disguised in his camouflage outfit and ready for duck hunting season. In the centre picture we see a work crew discussing the move. In the right hand picture, we see that the new foundation in Roundhouse Park is ready for the move. The station's turret, will be located at the upper left of the foundation.
.
Text and Pictures by Derek Boles, TRHA