Sprucing Up the Speeder!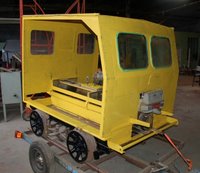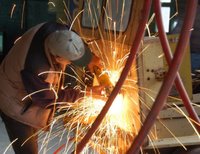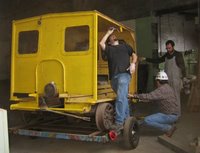 Click on each picture for a closer look!

.
Yesterday's work bash went swimmingly and not only due to the rain! Thanks to Lance, Richard M., James R., Ron, Jason P., Michael and Dan, the speeder got a rub down and first coat of paint, we have two new fluorescent light fixtures working and the velocipede gang made a start on identifying the remains of a velocipede in our possession.
.
Speeders were a part of the evolution of railway vehicles which could carry railway maintenance crews along the right of way to check for problems and to do minor maintenance. They were simple vehicles driven by small one cylinder gasoline engines. The speeder in our possession was rescued from a deteriorating barn in eastern Ontario a few years ago by Michael Guy and Russ Milland of the TRHA. Our speeder is in very good condition and it is quite likely that we will be able to bring it back into operation in due course.
.
Text by Russ Milland; Pictures by James Rasor and Michael Guy