Acquiring Miniature Rail for Roundhouse Park - Part 2 of 2!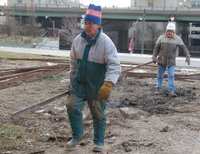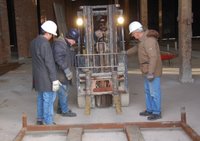 Click on each picture for a closer look!

.
On Thursday, December 11th, the rail was delivered on a trailer and unloaded by a TRHA team onto the grounds behind the Roundhouse.
.
Then, on Saturday, December 13th, a rail moving crew consisting of four teams of two TRHA volunteers each worked with one man at each end of a rail section. The exact weight remains to be calculated but at the nominal quantity of ten tons, we each moved a ton and a half of steel this morning and still made it home in time for brunch. A job well done!
.
On Sunday, two of us addressed the task of dealing with some curved and bent pieces of rail, completing the job of properly storing the rail.
.
Text by Michael Guy; Photos by Lance Gleich