The West Toronto Railpath - Part 1 of 2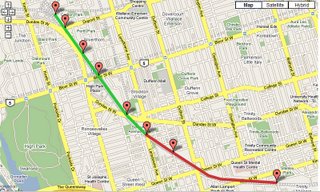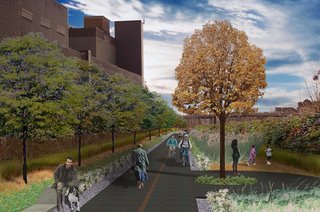 .
Click on each image for a closer look!


.
To the North and
West of Roundhouse Park is an interesting new linear park development called the West Toronto Railpath. Railpath is a partnership of the Evergreen and the Community Bicycle Network who have joined forces with the City of Toronto in the planning and development of this project. Both organizations are dedicated to making environmentally friendly community-based projects happen.
.

When completed, the proposed pathway will run diagonally from Cariboo Avenue (just North of Dupont) southwards across Bloor, Dundas, Landsdowne, Brock, Queen and King to a point close to Strachan Avenue near the western end of Wellington Street bicycle path network.
.
Railpath will run along an abandoned railway roadbed which has been out of use for over 40 years. Because the rail corridor is extremely wide in this corridor, the Railpath will not interfere with existing train routes or with the proposed Air-Rail link to Pearson Airport.
.
For more information and to explore the map in more detail, visit the Railpath website by clicking here.
.
Story by Russ Milland; Artwork by
Scott Torrance Landscape Architects