Historical Photos of CPR Switchers including #7020 at Work!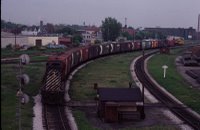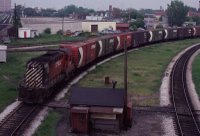 Click on each picture for a closer look!
.
Many years ago, the old iron bridge at West Toronto (also called the Junction) was an excellent spot to view and photograph trains working around the diamond. In these four pictures taken from that bridge, we find CP switchers doing what these locomotives were designed to do. Their primary job was to pick up and drop off freight cars at industries along the railway.
.
In the picture at the left below, we find CP Rail #7020 working West Toronto. CP #7020 is a Class DS10-b locomotive and carries serial #72855. It has been preserved as part of the Toronto Railway Heritage Centre collection. More information about #7020 can be found
here
on our website
.
Posting by Russ Milland; Pictures by Pete Mackintosh
.