Aecon Awarded $196 Million Contract for Union Station Platform Renewal!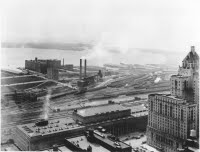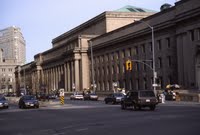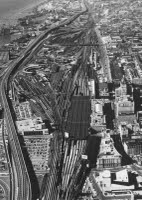 Click on each image for a closer look!
.
Last Friday, the following press release was issued marking another milestone in the project to renovate Union Station.
.
"Aecon awarded $196 million contract for Union Station Platform Renewal
.
TORONTO, Oct. 30 /CNW/ - Aecon Group Inc. (TSX: ARE) announced today that its Buildings Division has been awarded a contract by GO Transit, a division of Metrolinx for the $196 million refurbishment of the Union Station train shed.
.
Under the contract, Aecon will refurbish Union Station's 360,000 square foot train shed covering 13 tracks and 23 platforms; replacing the existing roof with new a new steel roof and a glass atrium that reaches 50 feet above the platform level. Fifty new stair access points and nine new passenger elevators will be built to help move passengers from the existing concourse level to the newly-refurbished platforms.

.
The project also involves the removal and repair of approximately 4,200 metres of existing track beds, as well as electrical and mechanical work including communication systems, signals, a new roof drainage system, and a snow melting system.

.
The existing station is subject to a Heritage Easement administered by Parks Canada and will therefore undergo preservation and restoration to reinstate it to its original condition wherever possible. The refurbishment will be completed in eleven stages with each stage involving the closure of two tracks and two platforms. The project is scheduled for completion in November of 2014."
.
In the above middle picture we see the impressive front of Union Station as it exits today. The other two pictures show union station and the train shed surrounded by the Royal York Hotel and the original downtown rail lands in the mid-1900's
.
Posting by Russ Milland