Don Station Renovation Well Under Way!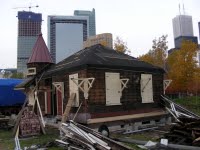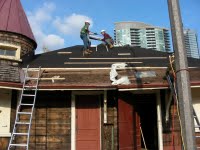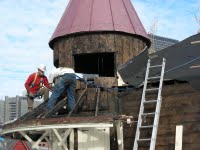 Click on each image for a closer look!
.
As work finishes on Cabin D and winter closes in, work by Tom Murison and his team on restoration of the exterior of Don Station has accelerated. At the above right, we see his team dismantling the roof around the turret. The station had experienced two fires in the past. The burnt rafters are clearly visible in this picture and in the photos below. Tom's team is replacing the entire roof overhang. Tom advises that they have milled the new rafters and purlins, primed some of them and will be installing them this week, weather permitting. He further advises that the soffit for the roof is mostly primed as well and they will be waterproofing everything as they go.
.
Posting by Russ Milland; Pictures by Michael Guy & Tom Murison
.