Field Trip Report: Western Gateway Heritage Museum in North Adams, MA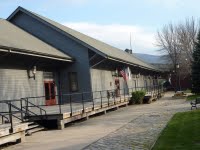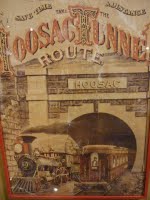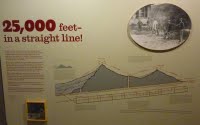 Click on each picture for a closer look!
.
While vacationing in the Berkshire Mountains of Massachusetts two weeks ago, I took the opportunity to visit the
Western Gateway Heritage Park
museum in North Adams. This museum is in a restored railway station right beside a working railway line that leads to the Hoosac Tunnel.
.
Wikipedia
tells us that:
.
"The
Hoosac Tunnel
(also called
Hoosic
or
Hoosick Tunnel
) is a 4.75-mile-long (7.64 km)
railroad
tunnel
in western
Massachusetts
which passes through the
Hoosac Range
, an extension of
Vermont's
Green Mountains
. Work began in 1848 and was finally completed in 1875. At the time of completion, it was the second longest tunnel in the world (after the 8.5-mile-long (13.7 km)
Mont Cenis Tunnel
through the
French Alps
). It was the longest tunnel in
North
America
until the completion of the
Moffat Tun
nel
in 1928, and remains the longest active transportation tunnel east of the
Rocky Mountains
."
.
This is quite a small museum and, as such, could be the source of a number of ideas for our equally modest facility (in terms of space). In the picture at the left below, we see part of a small HO scale model railroad which models the area as it looked when the tunnel was beginning to be used. In the middle picture below we see the interior of a boxcar attached to a wall of the museum. The interior of the boxcar has been developed into a replica of the mine tunnel under construction with audio providing commentary on what we are seeing. At the right below, we see a picture of the tunnellers at the tunnel mouth.
.
Posting and pictures by Russ Milland
.