Weekend Report: Progress on Don Station!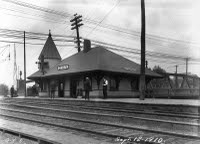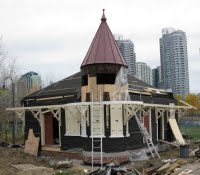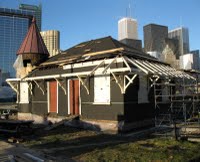 Click on each picture for a clo
ser look!
.
In the picture at the upper left (courtesy of the Toronto Public Library) , we see Don Station as it was in 1910 at the corner of the Don River and Queen Street. Tom Murison reports further on weekend progress on its restoration as follows.
.
"We worked all weekend and have the cylindrical section of purlin installed around the turret, some of the rafters set on the west side, and most of the south side. We also installed the cap rail around most of the building with three small pieces left on the turret. We installed clapboard on the east wall and will be finishing that side tomorrow, moving on to the north side and then the two sunny sides.
.
We took samples of the original v-joint for analysis and have two surprising colour schemes for the original and second paint. The first colours was a light brick brown, probably a sienna colour for the upper clapboard and lower V-joint with a light green accent on the windows, sills and caprail that ran around at the level of the sills.
.
The second colour scheme was a light green, which was very similar to the trim on the tool shed and Cabin D, probably with a deep reddish brown trim at the cap rail. Both colour schemes would have been ....."snappy" .... with contrast and subtlety. The brackets and soffit appear to have always been a light colour of cream or off white so that is what they are staying as. I have colour chips for the TRHA so that you can record this particular combination in your records."
.
To read more about Don Station on the TRHA website,
click here
.
.
Posting by Russ Milland; Pictures by Tom Murison
.