Weekend Report - Saturday's Progress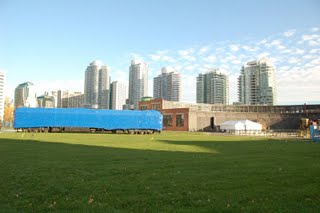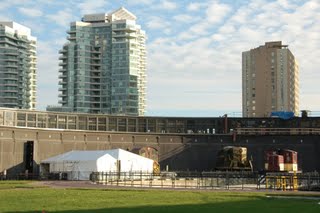 Click on each image for a closer look!
.
Before reporting out on weekend progress, we are pleased to report that the fencing around much of Roundhouse Park's construction areas has now been removed. The pictures above show what these areas now look like. Only the areas around the "village" buildings remain protected by fencing as they are not yet completely renovated.
.
Saturday was a very windy mixture of work and fun! We started the day in the machine shop working on the last switch mechanism. Given the aoppreciable work involved in the building of these switches, this is real progress!
.
Another team continued to work on cleanup of the TH&B caboose. During this effort, we had a screaming gale outside blowing equipment and materials belonging to the roundhouse roofing contractor about overhead. In the van we removed a lot of 'new' 1960's vintage plywood panelling to expose the original walls which are in pretty good shape generally. The current plan is to replace any bad material with identical material and paint it thereby restoring the interior to it's original look.
.
After lunch (about three p.m.) the weather had moderated considerably. Rod Wilson, one of the leaders of the local community which restores old speeders to operational condition, had brought his newly completed motor car along so we all used it to go for a run along track 40 through the village. This went well so we decided to bring out the people-mover hay wagon and try it too. The serious purpose of this was to ascertain whether or not a motor car can pull a loaded trailer over the rubber flangeway filler. It does work but the effort required is easily triple that of operating on plain track and stopping on the rubber is not recommended.
.
Posting by Michael Guy; Pictures by Lance Gleich & James Rasor
.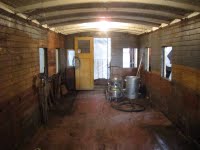 .