Historical Notes: Don Station Closes and GO Bilevel Cars Arrive!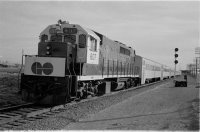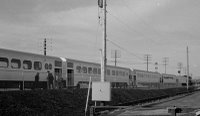 Click on each image for a closer look!
.
Derek Boles, TRHA's historian, publishes a daily posting on the Toronto Railway Heritage Yahoo Group List. These postings document major railway oriented events that happened on that day of the year. Two of today's items are as follows:
.
"December 5, 1977:
.
GO Transit unveils the agency's first new bi-level passenger coaches at Union Station. These were the first bi-level (actually three lev
el) cars to feature a full-width upp
er floor rather than the hanging gallery that characterized the bi-level Canadian Pacific commuter cars used
in Montreal and borrowed by GO for two weeks in 1974. The expansion of GO's passenger capacity had been constrained by two factors:
The length of trains was dictated by the length of the existing station platforms.
The frequency of trains was limited by an antiquated signaling system and traffic bottlenecks west of Union Station..
Higher capacity cars were seen as a partial solution to these cons
traints. The bi-levels were built by th
e Canadian Car Division of Hawker Siddeley Ltd. in Thunder Bay, Ont. an
d sat 162 passengers instead of the 94 passenger capacity of the original single-level cars. The cars began regular service in 1978 and eventually took over all GO train service. The design of these cars was so successful that only minor modifications have been made in the past 32 years. The cars are now manufactured by Bombard
ier and more than 900 are in use in Toronto, Vancouver, Montreal and several U.S. cities."
.
The GO service was inaugrated on May 23rd, 1967 and celebrated in an earlier
TRHA News item
. The black and white pictures above show the engine and passenger cars on that inaugral day. The colour photo shows the current GO bilevel coaches that Derek chronicles.
.
"December 5, 1967:
.
The Canadian Pacific Railway Don Station is closed. Opened in 1896, the station was intended to serve the rapidly expanding east end of Toronto so passengers wouldn't have to go all the way downtown to Union Station. After 1906, the structure was jointly shared with the Canadian North
ern and later Canadian Nationa
l Railways. The
station was busiest during the early 1920s when all eastbound CP and former Canadian
Northern passenger trains stopped t
here. Service began to decline at Don when CN aba
ndoned the C NoR line to Ottawa in 1926 and pool trains were in
troduced in 1933, rerouting some CP trains onto CN tracks. By the 1950s, Leaside had become CP's principal suburban station for eastern Toronto. After 1965, the only passenger trains stopping at Don were the Havelock Budd cars. In its latter years the station operators spent most of their time issuing train orders to CN freight trains on the Bala Sub., a function which became redundant after CN opened the T
oronto bypass in 1965 and installed Centralized Traf fic Control. The station was moved to Todmorden Mills in 1969 and to Roundhouse Park in 2008, where it is now being completely restored."
.
Below we see, from left to right, Don Station at its original location in 1910, at Todmorden Mills and finally at Roundhouse Park where it is currently being restored.
.
If you wish to read Derek's daily postings, simply join the Yahoo
Group by
clicking here
.
.
Posting by Russ Milland; Pictures courtesy of Toronto City Archives, John Vincent, Derek Boles and Michael Guy
.