Weekend Report: Progress on 3 Fronts in a Snow Bound City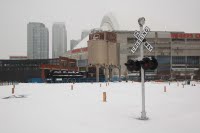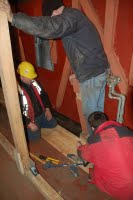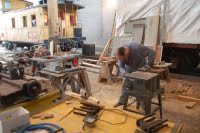 Cl
ick on each image for
a closer loo
k!
.
Despite the late winter dump of snow on the Roundhouse property as shown in the picture at the left above, our determined volunteer crews once again put in a great work effort this weekend indoors at the roundhouse.
.
One of our two crews continued to work on the restoration of the interior of the caboose. We got the sills cut for the windows and the new flooring laid up to the floor sill. We also continued to strip the doors down in preparation for new paint and reinstallation.
.
On a second front, we covered the miniature turntable with some recycled Caboose shrinkwrap that we luckily kept in preparation for the Mini Depot to be painted on the inside this week. The end of the day was spent cleaning up after ourselves in preparation for the contractors coming in to install the heating in the stalls - this is good news!
.
Meanwhile, on our third front (the F7 cab restoration front), our team primed the rest of the electrical compartment doors, as well as the insides of the exterior side doors. We also prepared two plywood patches on the engineer's and fireman's risers. Both are finished and ready to install. Three of our volunteers then started to cut the metal frame supports to support the sofa enclosure at the back of the cab. All pieces are cut, placed and ready to be welded.
.
Posting by Russ Milland based on information from Dan Garcia & James Rasor; Pictures taken by various volunteers using Lance Gleich's camera.
.