Weekend Report: Progress on F7 Cab, Caboose and Miniature RR Depot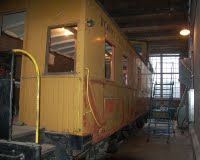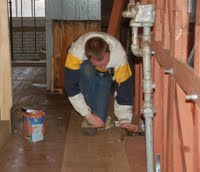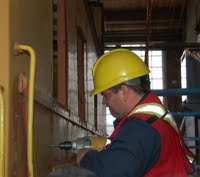 Click on each picture for a closer look!
.
We had yet another productive weekend with progress on a number of projects.
.
The TH&B van is looking very trim. The west wall is a complete structure again and the steel sheathing has been screwed back into place from the outside making the wall straight once more. Next week the interior T&G (tongue and groove) panelling will start to go back on. Work continued on the priming work on the interior of the F7 Cab and it is looking quite handsome as can be seen in the picture below.
.
In the miniature railway depot building we installed four eight foot long fluorescent light fixtures to dispel the gloom. These were recycled from the roundhouse stalls 28-30 prior to the renovations. Wiring is yet to be completed but the fixtures are in place and ready. Our team also cut and drilled nearly a third of the track supports needed to support those tracks in the depot which will be elevated to provide access to engines and rolling stock from underneath.
.
Posting by Michael Guy; Pictures by Stephen Gardiner and Lance Gleich
.
.