TRHA hosts groups touring the Toronto Raillands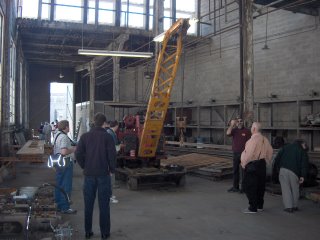 On Sunday April 29, the TRHA was pleased to host 22 members of the Guelph Historical Railway Association
(
http://www.ghra.ca/about.html
) and the Cambridge Railway Heritage Group (
http://www.crhg.ca
.)
Many of the members arrived in Toronto on VIA Train 84 and were welcomed at Union Station by TRHA Historian Derek Boles. The group then went on a tour of the Railway Lands, which began with a stroll around the Air Canada Centre and the little known stone carvings depicting the history of transportation and communications in Canada.
At Roundhouse Park, the group was met by TRHA Vice President Michael Guy for a tour of the Roundhouse interior. In the picture, Michael Guy explains the workings of the Elwell crane in Bay 32 of the Roundhouse to our visitors.
After lunch, Derek led the group on a tour of Union Station, which ended shortly after 5. The members who had arrived by train returned on VIA 87.