Resurrection of a 15" gauge "park engine"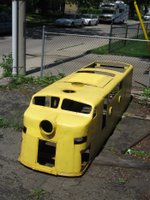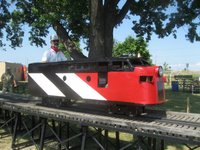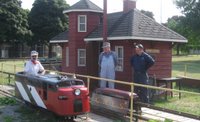 Click on the pictures for a closer look!
While not as common today, in the past, there were many commercially operated miniature railways which took kids of all ages for rides. In the upper left photograph, you are viewing the body shell of one such locomotive which ran on 15" gauge tracks at one time. A similar locomotive ran in the toy department of the downtown Toronto Eaton's store in the 1950's. I know because I rode it as a child!
Recently, Michael Guy, a director of the TRHA, acquired this shell. He decided to build a 7 1/4" gauge powered chassis so that we could duplicate the experience of the 1950's on the more common 7 1/4" gauge tracks used by miniature railway enthusaists such as Michael and myself. In the other two pictures, the engine is pictured in its inaugral run at the Golden Horseshoe Live Steamers (GHLS). After a few adjustments the engine ran perfectly. It ran so well that we used it to pull passengers on the riding cars used by this club for that purpose.
The engine is powered by 6.5 horsepower Honda gasoline powered engine which drives a hydraulic pump. Hydraulic fluid under pressure is then used to drive the trucks using hydraulic motors.
Visit
http://www.ghls.ca/
for more information about the GHLS club operations and for the dates when they offer free rides to the public on the property of the Hamilton Museum of Steam and Technology.
by Russ Milland, TRHA