Progress on the Turntable Bridge Restoration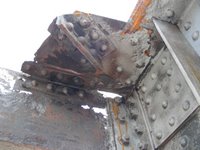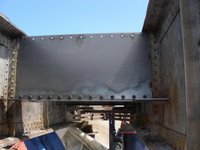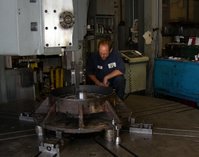 Click on the pictures for a closer look.
.
Restoration work on the John St locomotive turntable is continuing and going well. In these
photos we see an example of the deteriorated bridge steel, a view of one of the new internal plate cross braces and the lower half of the centre pivot bearing. This latter is being inspected by one of Western's toolmakers, Paul, who is kneeling on the table of a large vertical boring mill. For those not familiar with these machine tools, the table is the part that rotates, the cutting tool is stationary on the arm near the middle. Much care is being taken during repair work on the bridge structural steel that none of the repair work is visible from the outside. From that vantage point it will appear to be an original riveted structure.
.
By Michael Guy, TRHA