A new adddition to the TRHC roster!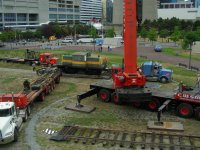 Click on any picture for a closer view!
Today at 3:15 p.m. the Toronto Railway Heritage Centre received it's first piece of new equipment and the first new rail item to enter Roundhouse Park in almost two decades. A Canadian Locomotive Company - Whitcomb (CLC-W) 50 ton diesel-electric industrial switcher was delivered by road and unloaded by crane. Intended for use as a working switcher within the Heritage Centre, the Kingston built CLC-W is one of only three believed to exist in Ontario, the last in original condition and therefore of some historic interest in its own right. The locomotive is interesting in that it is completely double-ended, it has two engines, two traction generators and two traction motors powering the two trucks, all arranged symmetrically about the centre cab. In the next weeks, TRHA volunteers will begin a program of cosmetic restoration followed by mechanical and electrical systems overhaul.
.
by Michael Guy, TRHA