Announcing the acquisition of a new artifact!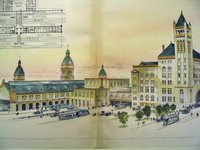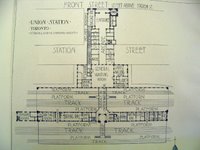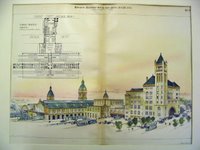 Click on each picture for a closer look!
.
The Toronto Railway Historical Association is pleased to announce the acquisition of a significant new artifact for the Toronto Railway Heritage Centre Archives. It is a hand coloured architectural rendering of Toronto's 1890s Union Station expansion and was acquired through the generosity of TRHA President Orin Krivel.
.
The rendering was originally published in the July 28, 1894 issue of American Architect and Building News. This periodical had a very small circulation at the time and original copies of this rendering are extremely rare. It measures 17.5 by 13.25 inches and has been painstakingly tinted by hand. Although a similar view has been published in various books about Toronto history, TRHA Historian Derek Boles has never seen a rendering of this quality. It appears to surpass the quality of similar renderings belonging to the City of Toronto Archives and the Toronto Public Library. Once the artifact is conserved and properly mounted, we hope to display it publicly, perhaps at the Christmas Train Show or during Doors Open at Union Station in May 2008.
.
by Derek Boles, TRHA Historian