Destruction of historic GTR bridge abutment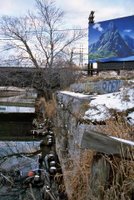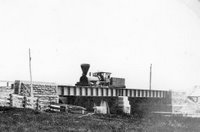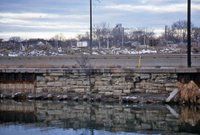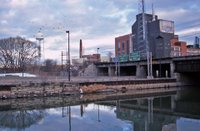 Click on any picture for a closer look!
.
I'm saddened to report the destruction of what may have been the oldest archeological artifact in the city of Toronto associated with the railway era.
.
When the Grand Trunk Railway first began operating between Montreal and Toronto in October 1856, they had not yet completed a bridge over the Don River. The bridge was opened to traffic in early 1857 when the GTR was extended westward to a station at Bay and Front Streets.
.
Although the bridge itself was later replaced, the original stone abutments remained in use until the present Canadian National line was relocated about fifty feet south onto a new bridge in the 1920s.
.
The 1857 center pier was removed, but the east and west abutments remained in place. Most of the east abutment was removed to permit construction of the Don Valley Parkway in the early 1960s. The surviving abutment on the west bank of the Don River was difficult to see except from a speeding car making the curve from the southbound DVP onto the westbound Gardiner Expressway.
.
The only way that one could get close to it was on the Don bicycle trail that was closed in 2005 for reconstruction. The bicycle trail reopened this summer and it appears that the 1857 stone bridge abutment was demolished exactly 150 years after it was built. Some of the individual stones appear to have been redistributed around the site in a clumsy attempt at landscaping.
.
In recent years, Torontonians have witnessed several instances where the city's heritage is obliterated, either through lack of interest or simple ignorance. Several hectares on the west bank of the Don River have been closed off and inaccessible in the last couple of years, so it was impossible to monitor what was going on in that area.
.
When the city demolished the eastern extension of the Gardiner some years ago, several of the abutments supporting the elevated structure were retained and incorporated into the landscaping along Lakeshore Boulevard. It's sad that this couldn't have been done with the remaining remnants of the 1957 Grand Trunk bridge over the Don River.
.
The picture at the left above shows the bridge shortly after it was built in 1857. The view is looking north so the western abutment is on the left. The two pictures above in the middle were taken by me from the bicycle trail in 2003. These show the remains of the east abutment underneath the DVP.
.
The picture at the right shows the recently demolished west abutment.
.
By Derek Boles, TRHA