Progress on numerous fronts!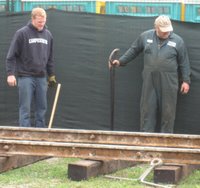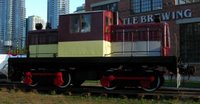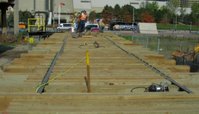 Click on each picture for a closer look!
.
.
In the left hand picture above, we see the new track section being completed by our track crew
members Scott (left) and Rod. This new stretch of track will allow the CLC Whitcomb access to the turntable.
.
In the middle picture, we see that painting is progressing with the cream paint having been completed on this side of the CLC Whitcomb locomotive. At this point in time one of the two diesel engines has successfully been brought to life, while the other is reluctant to go and still requires some work.
.
In the right hand picture, we have a view from way up high on the turntable bridge with a PNR Rail Services crew fitting the cross-ties. The steel strips serve to hold intermediate ties that are not hook bolted to the bridge steel from moving sideways. Once this is done, the actual rail will be installed.
.
by Michael Guy, TRHA