Annual Toronto Christmas Train Show - November 24th and 25th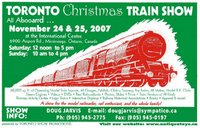 The largest train show by far held annually in the Toronto area is the Christmas Train Show to be held this year on Saturday, November 24th (noon to 5:00 p.m.) and Sunday, November 25th (10:00 a.m. to 4:00 p.m.) at the International Centre on Airport Road just north of the airport.
Click on the poster at the left for more details.
.
The Toronto Railway Historical Association will once again be attending with a gallery of pictures. This year, most of the pictures will be new as we display many of the exciting developments that have happened in the past year. Below is a message from the show organizers.
All Abooaarrddd!..... Visit the largest annual train show in the Toronto area. There will be over 50 displays and operating layouts in every gauge of trains. There will be about 60,000 square feet of layouts, exhibits, clinics showing how to build layouts and scenery, toy trains, steam engines, videos, photos, prints, books, apparel, Railway Historical Associations and train vendors of all kinds. Come and renew those magical memories of our train sets of old or come and get started on a layout for the grandchild (Ok maybe yourself). This is great family fun for all.

.
By Russ Milland, TRHA