Cabin D gets an inspection!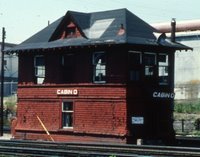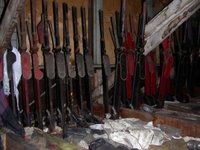 .
As the Toronto Railway Heritage Centre moves towards reality, TRHA is guiding the process of restoration of several wooden buildings that formed part of the railway heritage of the City of Toronto. One such building is signal cabin "D" which is presently preserved in an un-restored state behind the roundhouse.
.
In the photo at the left above, we see Cabin "D" near the end of its days in its working location just west of Bathurst Street. The photos in the centre and right above were taken inside cabin D yesterday during an inspection visit. The levers were used to operate the track switches through a complex set of mechanical linkages. The same system is used today for the approach tracks to Union Station and are operated from the remaining signal cabins which are still operational.
.
by Michael Guy, TRHA