Preparing the gantry crane for the "big lift"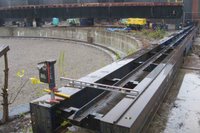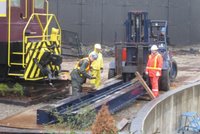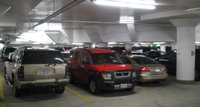 C
lick on the picture for a closer look!
Western Mechanical has chosen to use one of their gantry cranes to lift and move the turntable bridge into position in the turntable pit. In the picture at the left above the northernmmost track for the crane has been positioned as of mid-day today. In the picture at the centre above, the Western mechanical team position the first of the southernmost gantry rail pieces. These are being position on large heavy steel plates to distribute the load carefully as the turntable pit is actually located directly above the parking lot for the Metro Toronto Convention Centre. In the picture at the above right you can actually see the turntable pit in the parking garage positioned on pillars so large that we can safely support and move a massive steam locomotive such as Toronto's CNR 6213 4-8-4 Northern steam locomotive.
by Russ Milland, TRHA