Turntable touches down on the pit rails!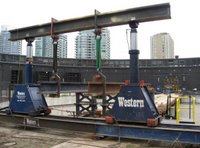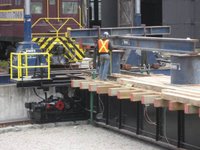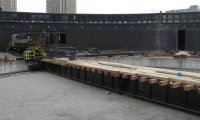 Click on each picture for a closer look!
.
In the news item below, we noted that the turntable move bgan at 9:07 a.m and included a video of this happening.
.
By 11:47 a.m. today, the turntable had been moved into place and the center bearing had been bolted into place without having to force any of the bolts, a tribute to the great engineering skills of Western Mechanical. The turntable was now fully supported by it's own wheels and the center bearing for the first time in many years.
.
In the picture at the above left, Western Mechanical's adjustment yesterday afternoon of the lifting system on the North gantry to use a two beam system instead of the one beam system is clearly evident. It handily righted the tilt of that end of the turntable allowing for a smooth install.
.
by Russ Milland, TRHA