CPR Holiday Train to Visit the Toronto Area!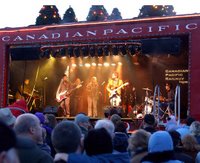 .
.
Each year, The Canadian Pacific Railway (CPR) has Holiday Trains which hit the rails on December 1st visiting over 100 communities in seven states and six provinces to raise food, money and awareness for local food banks. Bring your cash and food donations and support your local food bank. To date, they have raised $3 million dollars and 1.6 million pounds of food. This year's entertainers and musicians include Wide Mouth Mason, Melanie Doane, Tracey Brown, Colin Linden, Mike Norman, and Ennis.
.
Here is the part of the schedule relevant to the Greater Toronto Area:


Toronto: Monday, December 3rd at 6:45 p.m. at 56 Mill Street near commuter tracks in the Distillery District



Vaughan - Intermodal Terminal: Monday, December 3rd at 9:00 p.m. at north west corner of the CPR crossing at Nashville Road, near the old grain elevator.



Hamilton: Tuesday, December 4th At 8 to 8:30 p.m. at the Western approach to Kinnear Yard opposite Gage Park.



Cambridge: Wednesday, December 5th at 5:30-6:30 p.m. at the Former Galt station, 10 Malcolm St.



Woodstock: Wednesday, December 5th at 7:45-8:45 p.m. on the CPR main line, 199 Winnett St.
For more information on the other 100 stops, schedule changes and more pictures, visit the Canadian Pacific Railways website here:
by Russ Milland, TRHA