Where did those GO Transit FP7's go?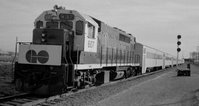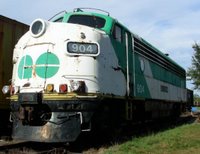 .
.
.
On May 27, 1967, GO Transit began its first day of service on the lakeshore corridor serving Toronto and its environs. In the picture at the upper left, provided by John Vincent, we see GP40TC #607 pulling one of that day's trains. GO also employed FP7's in that era. On a recent visit to the Florida Railroad Museum in Parrish Florida, I found a refugee hidden in the back of the yard, ex GO Transit FP7 locomotive #904.
.
The same museum also has two Alco RS3 locomotives, one of which is used regularly on their excursion train. On display at the Parrish end of thirteen miles of track is ex CNR sleeper-lounge car CAPE TORMENTINE. Built in 1954 by Pullman-Standard (Chicago) for the Canadian National Railways, Cape Tormentine ran between Chicago and Toronto and is now available for sale or trade. Visit
http://www.fgcrrm.org/
for more information on this railway museum."
.
by Michael Guy, TRHA