Just how did they move that coaling tower?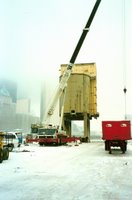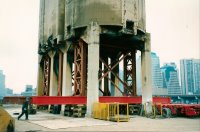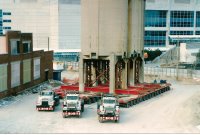 .
.
.
The date is January 23rd 1995. Skydome is up and running. The Metro Toronto Convention Centre is yet to be built. Bremner Boulevard does not yet fully exist and it is moving day for the John St Roundhouse coaling tower. ETARCO was the contractor. They are now part of Mammoet (
http://www.mammoet.com/
). They sure put a lot of wheels under there! In the left hand picture, the riggers begin to set up and the Royal York Hotel can be seen in the background. In the picture at centre left, the lift structures and the first jeep are in place. The pciture at centre right shows the entire rig in place next to stall 32 after the move with the three tractors lined up and Skydome in the background. The last photo is an impressive aerial shot from the CN Tower observation deck showing the roundhouse with the coaling tower in its new location. The old turntable pit with the bridge still in place but without any rails or ties. Stalls one to eleven are just beginning the de-construction process. The stall 1 north wall is invisible behind scaffolding and tarps. Cabin "D" is visible at the west end of the turntable and the CPR stores building, mid left, still stands. Just to the upper right of Cabin D is the tool shed about to be moved into stall 27.
.
by Michael Guy, TRHA with photos provided courtesy of Ken Musselman of Mammoet.