A quiet weekend but progress was made!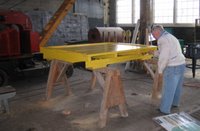 Click on each picture for a closer look!
.
.
.
Things were a bit quiet this last weekend with it being the weekend of Mother's Day and of Derek Boles Annual Railway Lands walk. Bob D. dropped by with a muffin for Dave W. as Bob went on to join the walk and took the picture at the left of Dave W. painting the new lorry body. Dave W. took the picture at the right of his handiwork.
by Russ Millnd, TRHA