Sunday, May 18th - Conventioneers tour the Roundhouse and Union Station!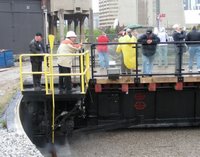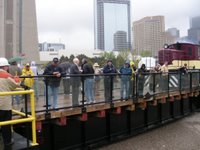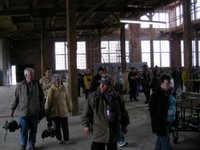 Click on each picture for a closer look!

.
Each year, the Canadian Association of Railway Modellers (CARM
http://www.caorm.org/
) and the Canadian Railway Historical Association (CRHA
http://www.exporail.org/
) host a Canadian National Railway Convention. This year it was held at McMaster University in Hamilton, Ontario. A feature of the event was a bus tour on Sunday, May 18th to the CPR Roundhouse and Union Station led by TRHA historian, Derek Boles.
.
In the pictures at the left, we see the conventioneers riding the newly restored turntable. A the right, they are touring the interior of the roundhouse which has now been cleaned up and prepared for restoration to be completed.
.
By Michael Guy, TRHA