Update on Roundhouse and Turntable Renovations!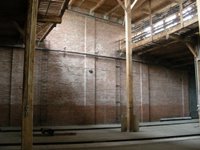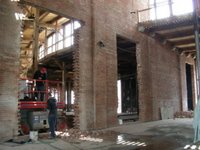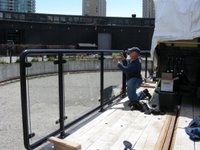 Click on each picture for a closer look!
.
.Renovation work on the roundhouse has been proceeding apace recently. In photo one to the left we see the stall 23 side of the western-most brick firewall in it's original but newly cleaned state. Photo two in the middle shows work in progress (from the opposite side of the same wall) to create three new openings. The openings will be finished to match the original mill-door portals with concrete lintels. Many of the bricks are being salvaged and cleaned for re-use elsewhere in the roundhouse. Photo three shows a contractor working on the glass installation for the turntable safety railing. Visible through the glass pane is one of the floodlights for night display of a locomotive.
.
On May 24th and 25th, TRHA will host Doors Open Toronto at the roundhouse. Visitors are welcome to tour the interior from 10 a.m. until 4:30 p.m. Saturday and until 3:45 p.m. Sunday. .
.
Visit our Doors Open listing:
http://tinyurl.com/5b2wqs
for more information
.
by Michael Guy, TRHA