Preparing for our permanent track installation!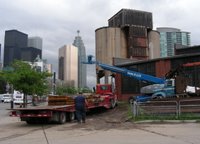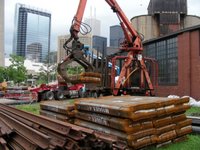 .
.
.
The current tracks radiating from the turntable in Roundhouse Park are temporary trackage. A key to progressing with further development of the museum is the installation of permanent trackage.
.
Today, PNR Rail Services began to deliver track materials for the Toronto Railway Heritage Centre trackage to be built this summer. Steel ties are to be used for longevity and cost reasons in all places where the ties will not be visible. All 32 roundhouse stalls will be re-connected to the turntable.
.
by Michael Guy, TRHA