A tale of five bridges! - Part 3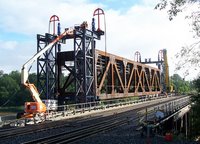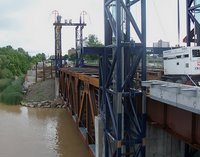 .
.
.
.
Thanks to Bruce Reynolds, we have an eyewitness account of the installation of the new Credit Rover bridge span described in our last news entry.

"The above photos were taken near the end of the seven hour operation to install the bridge. To minimize impact on rail traffic it was installed during the night. The entire operation took place between 1:00 am and 8:00 am, quite a feat. The budget for this bridge was eleven million dollars.
.
The building of this bridge is a unique undertaking as this is the first time a railway bridge has been built using this method. The main span was constructed on the west side of the river and on the north side of the mainline. It is a Deck Truss Span and measures 20 feet wide and 22 feet high, and 143 feet long. The span weighs 330 tons.
.
When completed it was moved by equipment rollers and beams onto four heavy equipment flat cars on the mainline. It was then rolled out onto the existing bridge and again using beams and the equipment rollers it was moved between two towers constructed for the installation at each end. Once moved between the towers it was attached to them and lowered into place on the base. Concrete trays will be placed across the top, a total of 24, each weighing 20 thousand pounds. The rails will then be laid across these trays. The expected completion is the end of August with some finishing work to be completed by October 2008.
.
One of the CN Engineers told me that this bridge was built to be repairable if required, and could easily last two hundred years."
.
Text and Pictures by Bruce Reynolds