Another Great Work Session at the Roundhouse!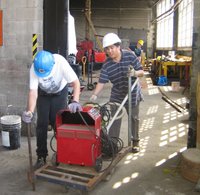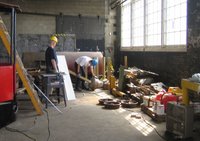 .
.
.
It was a great day yesterday at the Roundhouse. We made really good progress moving items to the machine shop and finishing the second lorry. The real bonus was all the help that turned out - Dave, Mark, Wilson, James G, Lance and James R. all showed up.
.
While Dave worked on lorry #2, the rest of the crew began to organize and move the items from the TRHA stalls to the machine shop. We had really good traffic going back and forth. Perimeters were cleared and we are pretty well down to big stuff, the work table items, and the South West corner . We even got a garbage run in. Everybody is a little daunted by the remaining hallenge in the South West corner but we gave it a good go today. Wilson re-invented the wheel and James R moved the boxcar.
.
by James Rasor