Milton Steam Era - Not to be missed on Labour Day Weekend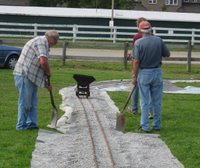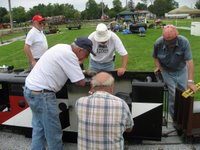 .
.
Each year, the TRHA, in partnership with the Toronto Live Steamers and the Golden Horseshoe Live Steamers, brings a miniature railway operation to the fabulous Milton Steam Era event over Labour Day weekend at the Milton Fairgounds in the heart of Milton, Ontario.
.
Thanks to a grand total of ten volunteers on site from these groups , the portable railway track set up at Milton fairground was executed in record time this morning. After a slightly earlier start than planned at 8:30 we were essentially done with track laying by 10:30. That beats our previous time by two hours!
.
If you have never been to see this show, we highly recommend it for anyone interested in steam tractors and antique farm machinery. There are all sorts of interesting exhibits. A highlight are the more than a dozen massive steam tractors and the twice daily parades by the grandstand. Also featured is tractor pulling with everything from massive steam ploughing engines to lawn mowers.
.
.
By Michael Guy and Russ Milland